So as of right now it is not technically Wednesday, but Tuesday morning as I sit at the table in the house I nanny for. All the beds are made, dishes washed, laundry is in the dryer and I have free time. I just walked 2 miles while talking to my sister in law, who lives in Germany right now about an upcoming trip. Last week if you are following me on this crazy journey (and for real thank you for still reading, it gives me so much motivation when random people I know come up to me with words of encouragement or just a simple hey I read your blog) you will remember that I mentioned that April was just an awful month. Well tomorrow, or today it is May 1st and the start of a new month and new determination to continue to get healthy. I am stepping on the scale today, the good, the bad, and the ugly not sure exactly what it is going to hold for me. I know that I weighed in on Sunday was looking ok but I decided not to step on the scale again until Wednesday.
This week has been a lot better then the week before. I really attempted to buckle down and track everything and not let my emotions or my though patterns rule my stomach. There was many a night that I contemplated getting up and going to get something from the drive through but instead brushed my teeth and started reading blogs or went to bed. I know I eat when I am bored, I just need to occupy myself with something else. I continue to get better at this day by day and I know I just have to stay consistent.
I mentioned last week that I was going to up my intake of water and boy did I do that! I also did pretty good keeping up with my exercising. Here is my rundown of my water intake and then m exercise for the week.
Water Intake (My water bottle holds 25oz so as I drank it I kept a running total on a note in my phone, I also used other water bottles to measure how much I drank)
Wednesday - 100 oz.
Thursday - 102 oz.
Friday - 70 oz.
Saturday - 108 oz.
Sunday - 59 oz.
Monday - 84 oz.
Tuesday - 100 oz.
Average a day - 89 oz!!!!!!!
Which I am so thrilled about because it is definitely above the recommended 64 oz, I just need to keep this up, my water bottle is what is helping me push through and also my kids. Everyday when I pull the girls off the bus they ask me how many bottles I have had and if I am on number 3 they are so proud and tell me I have all afternoon! But if I am only on 2 they are concerned and tell me I need to drink more. I love their caring hearts for me in this journey.
Exercise
Wednesday
Ease Into 5K - 36:55 - 2.45 miles
Treadmill - 18:54 - 1.2 miles
Upper Body Workout
Thursday
Walking - 18:31 - 1 mile
Walking - 17:26 - .81 miles
Friday
Ease into 5K - 29:45 - 1.81 miles
Walk with Milo - 35:33 - 1.18 miles
Saturday
Ricky's Run 5K - 45:12 - 3.18 miles
Sunday
REST
Monday
Walking - 23:52 - .98 miles
Walking - 14:37 - .83 miles
Tuesday
Walking - 38:51 - 2 miles
Total Miles Logged - 15.44 miles!
As you can see there are a lot of little walks in their because I get 20 minutes here and 15 minutes there and I stop at a park and just walk until I have to leave again. I figure it's better then nothing right?! So as you can see my water and exercise were pretty good. My food is coming around so hopefully this weigh in will be kind to me.
My goal this month was to reach 100 miles and it was a crazy month my total miles for the whole month of April are.........64.71 I was shy a good bit of miles but still I am so proud to have logged just around 65 miles in a month, it's about 2 miles a day, and I'll take that!
I link up every Monday with my weekly goals and you can take a look at them over
here
. My main goal this week is no french fries, they are my weakness and I try and squeeze them into my points wherever I can, but not this week, no french fries for this girly.
Dont forget to link up with Erin at
She's A Big Star
and Alex over at
Skinny Jean Pilgrimage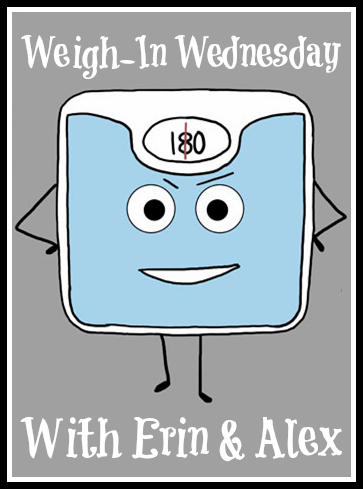 Alrighty now is the moment of truth!
The last time I weighed in was 2 weeks ago and it was 210.5 so that's a loss of .4! A loss is a loss in my book. And even though I didn't technically weigh in last week I am sure I stepped on the scale and it was up at 213 so it's more like a major loss from last week. I just need to continue to stay on top of it this week and I will get back down past 209 which is the lowest I have seen on here since starting Weigh In Wednesday. I did really good eating wise (except for last night at this dinner party I went to, but we wont go there...could have been WAY worse) this week and hope to do the same again. I need to remember to track every bit of food I put in my mouth even if it is just a taste.
It is now May 1st and it's time to get real and buckle down and bust through May. My sister's graduation is at the end of the month and I bought this dress that is a smidgen tight and would really like to be in it for her graduation. I would love to lose 5-7lbs this month and I know that if I stick with it I can. It's just making better choices when it comes to my snacking.
I'm headed to a Braves Game tonight to celebrate a birthday with a friend, and I am so excited. I just love baseball season!
Jenny