This has been one of those forever long week. Yesterday truly felt like it was Friday so I was disappointed when the alarm clock went off this morning and reality hit. Nanny duties today include sitting in the BMW dealership to get the boss car fixed. Basically it means I get to sit with all the older guys who hit their mid life crisis and bought a car and are now watching Fox News. Thank the Lord for Internet and my quick thinking to bring my laptop today.
Anyways, last night my beloved Grey's Anatomy came back on and man was it as good as ever. Shonda is killing me with every emotion but I love every moment.
Linking up with Holly and Jake today for the Finish the Sentence link up!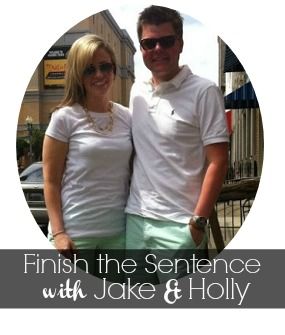 1. I always pick more fried food over dessert. (All day, err day)
2. Look at the size of her butt, Becky, it is soooo BIG!




3. I recently learned that when you tell the kids to do something, they wont always do it and instead will continue to do something else the contradicts what you told them to do in the first place!!




4. Only when no one is looking I eat a whole sleeve of Thin Mints. The struggle is real y'all.




5. I lost my first 10lbs on my weight loss journey last week. 10 down, a million more to go!




6. I was certain I'd be an OBGYN when I was a kid, had I known it wasn't just "delivering all the babies" I probably would have decided on something else.




7. There is not enough liquor in the world for me to ever really want liquor, just not for me.




8. I just finished paying my bills....Happy Friday!




9. Why does everyone have to be all over my about my grammar, I know it's not the best but my degree is not in English so back off!




10. It's very rare when I get really angry, but when the delivery people did not show up on time and were 2 hours and 15 minutes late, I made sure they knew how angry I was.




11. If I were a dog I would want to be owned by my human self, I would be pretty spoiled and loved.




12. I don't believe I am ever getting out of this dealership, and I am bound to be hungry in about a couple of hours, this could get dangerous.


This weekend holds the first wedding of the year for me, it's in North Georgia so I know it bound to be beautiful! So ready to get my tears and dance on.


Have a great weekend!


Jenny