The past month has been absolutely crazy. I feel though that this week was normal and mostly because it's leading into my first "normal" weekend in a whole month. I have loved having friends and family from out of town and my amazing cabin weekend, but I am ready to be at home with the dog and my roomie and just do what we normally do on a Saturday.
With that being said while this week was normal it was one that helped me catch up and get to where I am now.
1. My mommy and Aunt passed through Atlanta on their way back to Phoenix over the weekend and I had such a fun time with them. We went and picked apples and watched football and spent a good amount of time together.
2. There were some major break throughs when it came to my relationship with me and my dad, I am so happy where the Lord has brought us. You can read all about that
here
. It's a long story and tear jerker for sure, but a must read in my opinion.
3. That beautiful iOS 7 came out and I got it as soon as I could on my measly Iphone 4. The funny thing I am only going to have this phone for 2 weeks because my upgrade happens to be on October 1st and I have decided to get the 5s, now the real question is Gold or Silver....
4. My youngest W turned 6 yesterday which is crazy to me because he was only 4 when I started working for them. I made this
Lollipop Arrangement
for his birthday since he doesn't eat cake, ice cream, brownies, cookies or anything but lollipops and starbursts.
5. Last night I finally rented and got to watch Now You See Me and let me say, I would watch it over and over again, because it was so good. I was truly surprised and I usually guess what's going to happen in movies like these.
I am linking up with Lauren Elizabeth for High 5 for Friday and all the ladies over at 5 on Friday!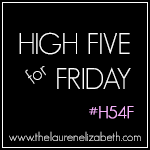 Jenny