It's Tuesday and now my second post of the week...I am on a role. I already have one planned for tomorrow as well!
It is probably the Christmas season since I have so much stuff I want to do and accomplish and being able to share it with all of you lovely readers makes it that much more fun!
It was so cool to see that my Gorilla Bread was featured this week on Tell-Us Tuesday. I am so honored. You can see the post
here
.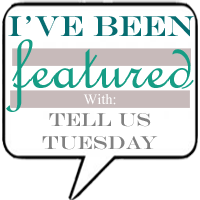 If you missed my post yesterday, you can find it here where I shared a few of the Pins I have found that I want to make for our apartment.

Lindsey and I were at home last night like we normally are on a Monday (I mean Sleepy Hallow and the Blacklist come on back to back) and she mentioned how much more our apartment was starting to look home-y. Our last apartment across town was our first place in Atlanta and we didn't really do much in the decorations department, but as we moved into this apartment I knew that more needed to be done. I frequent all the crafting stores and Goodwill and pick up pieces here and there to put on the walls or side tables or shelves and now our apartment is looking better every day.

After my post yesterday I knew that I was going to go home and work on something. After dinner I sat down at our little table and got to work. I am linking up with Tell-Us Tuesday again this week.

I originally found this pin from Fab You Bliss on pinterest and knew immediately that it was something I wanted to make. This is the original picture.
I went to Michaels which is having a super sale right now with Vetran's Day. My dad was in the army for 22 years and so I still have my military ID which gave me an additional 25% off of my whole purchase.
I got all of my supplies which were
3 Styrafoam Cones
Ball of Twine
Glue for my Glue Gun
String of Beads
The first thing I did was start at the base a put a dot of glue and the end of the twine and let it set for a little bit before I started wrapping.
After that I would keep going around and around putting glue and wrapping the twine as I went up. making sure to keep the twine close to each other so it didn't show too much of the Styrofoam.
At the end I circled around the top and clipped the twine just so I could stuff the little bit in the middle and it was done.
After that I took the sting of beads and started at the top and just glued one bead. Then I went around and glues a couple beads to it here and there. In the original one she used a pin to place them so she could change them out, but I don't plan on it.
(See that big clock in the background? I got that at Michaels on sale. It was originally $60 and I got it for $14....I love a good bargain.)
I continued on with the next two cones until all three were done.
We have a side table that sits in the corner between our love seat and recently it has housed my old milk pitcher and a coffee pitcher I found at the Country Living Fair. I decided that these would replace those lovely things.
Here they are in all their glory! The first Christmas item to grace our apartment's presence. I brought the Christmas Bin out of the storage room and just set it in the living room. I was looking through it last night and just dreaming up where I was going to put everything. I think it is going to slowly start getting put up these next few weeks.
That's it for today. Tomorrow I am going to be posting about a Thanksgiving Craft I did with my kids this week that they loved!
Jenny