First I would like to say thanks to all the people who commented and cheered me on last week when I posted where I was. It is nice to know there is such a great community out there to support me as I go on this journey.
Linking up with the girls over at Weigh In Wednesday!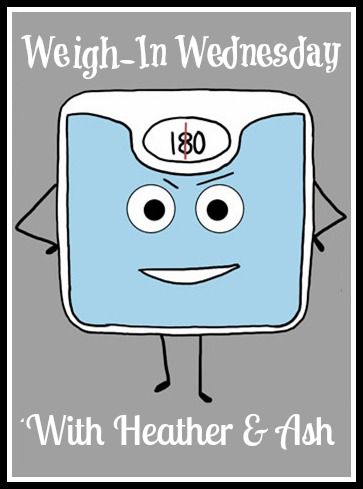 This first week as all about making a new normal for me. Instead of eating fast food and soda it was more greens and water. I thought it was going to be really tough like it has been the last few times I have attempted to lose weight. I would have a super low calorie lunch so then I could have fast food at night. I am now spreading my calories all through out the day and choosing better choices. I think I am realizing that I am treating this while journey differently this time then I ever have.
I feel different and much more optimistic about actually changing my health and not just losing weight.
I am using the My Fitness Pal app which has me eating about 1700 calories a day to lose 1 1/2 pounds a week and it is so manageable for me. I have been working out 3-4 times a week, whether it's hiking or walking at a local park. Back in December one of my best friends Kirsten got me this awesome water bottle. She knows how much I love water bottles and said she heard about this one from a friend and had to get one for me. It is called a MooseJaw and has a compartment for your license and key so that you can take it running with you.
This past week was really good food wise. Saturday was somewhat of a wash with so much going on but I was more aware of what I was eating and knew that I would be going over my calories but that it wasn't a huge deal, so I didn't track. Sunday I tracked and it included 2 slices of pizza at church for dinner, but that was about as bad as it got, and even when tracking it I came in under calories.
I am off this whole week because the nanny fam is in Colorado skiing which is a nice change of pace. Mostly resting and doing things that I normally wouldn't do, due to lack of time. Tomorrow I am going to get my hairs done. I have never really had them professionally done but decided with the new healthier me, I'm going to get a new do as well. This is what I am going to try to go for, can't wait to see how it turns out!!
Now for the moment we all have been waiting for.
I think I mentioned that I have chosen to weigh in on Monday mornings. Well this past Monday my eyes shot open and I knew it was weigh in day. I had weighed in mid week because I joined a diet bet and it was looking good so I was excited to see what the scale would say.
I stepped on and saw this....
My mouth dropped open. I went and typed it into My Fitness Pal and it proudly displayed that I had lose 4.4 lbs!!!! Wow.
Looking back when I did Weigh In Wednesday link ups I never lost more then 2.5 lbs so to lose 4 makes me soooo excited. It's such a motivator to keep working at it. I am realizing that drastic life changes bring drastic results.
I can't wait to see what this next week brings.
Jenny