Another Wednesday is upon us. I feel like they are coming and going so fast this year. I remember in high school that my mom told me that as you get older every year goes by faster and faster and she could not be more right. I am linking up with Ash and Heather for Weigh in Wednesday!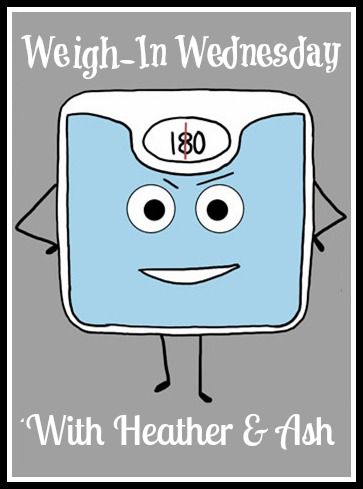 It was another off week for me, I had dinner date after dinner date with people that I had not been able to spend time with in a while. Then there was this past weekend. Wedding on Saturday and Birthday Dinner on Sunday.
Saturday my best friend Kirsten's sister got married. Kirsten and I met a year ago at a 5K run and I spent sooo much time at her house that I became a part of the family. There are 4 girls in the family and the oldest, Megan who is actually my age got married to her man, Brian on Saturday. It was at the Wheeler House in Ball Ground, GA and it couldn't have been any more beautiful. It was a barn set wedding and very rustic, the ceremony was amazing and the reception was so much fun. They served BBQ and so I was in heaven. Every person ended up out on the dance floor including grandparents!!
Sunday my friend Brittany turned 26! She is in my Wednesday night bible study group and lives in Atlanta so that automatically makes her that much cooler. We went to a neat restaurant called Fritti near Inman Park. It has these huge garage doors that open up to the street and since the weather was glorious on Sunday they had them opened. Fritti has amazing wood fire pizzas and they were soooo good. I pretty much ate my entire pizza and don't regret a thing. I just love a good celebration.
Anyways I knew that with my crazy weekend full of celebrations that my Monday weigh was not going to be too good, so I decided to weigh in today and then next Monday pick back up with the Monday weigh ins. Hopped on the scale this morning and....
Starting Weight - 239.4
3/5/2014 - 229.3
Loss this week - -0.9
Total Loss - 10.1 lbs
So glad that I decided to wait until today because I am sure Monday was a wreck, I am not back at the 10lb lost mark and hope to keep it gone and not put it back on. March is a crazy month for me. I am going to be in Germany for 9 days to visit my brother and sister in love and their beautiful children who I am obsessed with. I am meeting baby Ben who was born in August for the first time and I cannot wait to get all the snuggles I have missed out on. My best friend is also getting engaged this month and she knows it's this month but doesn't know when. I do and am helping with all the details so I cannot wait for it to happen! I will for sure be doing a post after it happens.
Has anyone heard the song #Selfie by Chain Smokers?? I heard it on the radio a month ago and thought it was a joke, it's so stupid that I'm sort of addicted. Ashamed, yet addicted.
Jenny